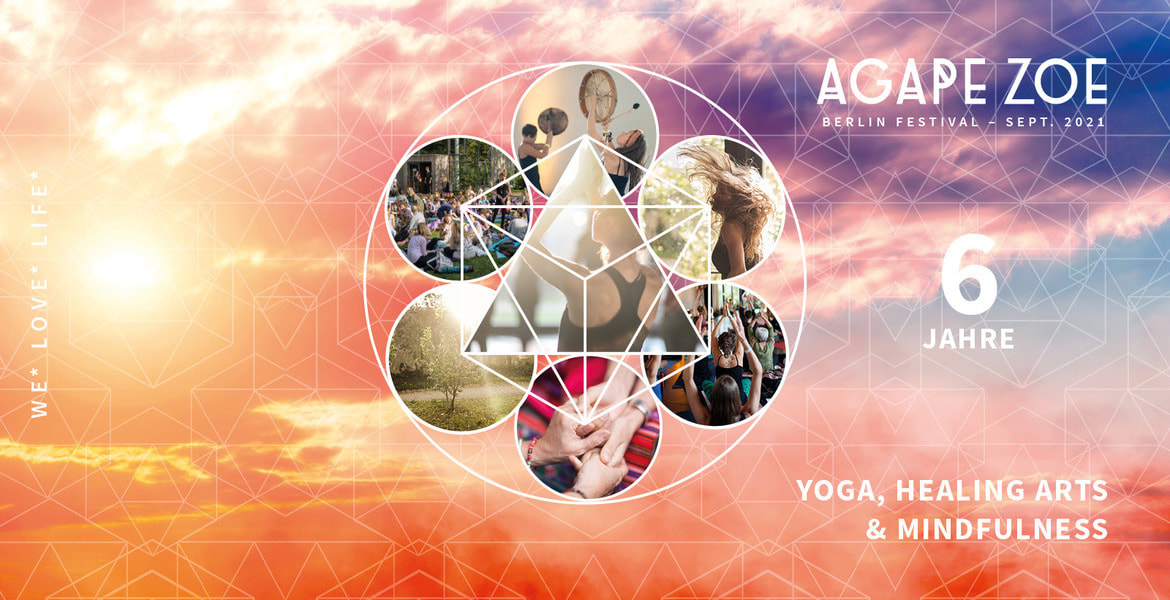 AGAPE ZOE Festival Berlin

*WE *LOVE *LIFE*

18.-19.

September

Berlin, EDEN Studios
Tickets for AGAPE ZOE Festival Berlin
Berlin
---
Information
*Attention: NEW DATE!*
Festival posponed to September 18 +19, 2021
Celebrate our 6th birthday with us under a warm late-summer sun in loving Community.
It's hard to believe: September 2020 was the last time we gathered with the AGAPE ZOE Tribe to celebrate our 5th birthday. Since then, we have had to postpone every other festival date, have shown patience and have always kept our hopes high. The time without you has been challenging and long, far too long. All the more we are now looking forward to the upcoming birthday festival in September! We are very confident that we will be able to celebrate with you again - the love, the life and the community in heart and soul that always connects us!
For our 6th birthday, you can expect lively, loving community in abundance and a long-awaited, colourful festival weekend with YOGA, MEDITATON, WORKSHOPS, DANCE, MUSIK, INNER WORK and much more.
We are already busy planning and are looking forward to you being there and celebrating with us! As always, there will be a colourful and nourishing bouquet of activities to caress the heart and soul.
Lightness, depth, soul-warming moments, slow movement, a short getaway for body & soul ... fully exhale & return to yourself in community at AGAPE ZOE Berlin Festival.
>> Good to know: Tickets for the original November, December, January, March & May festival will of course remain valid for September. <<


W E * L O V E * L I F E *
AGAPE ZOE is the largest festival of its kind in and around Berlin. Over the years, a lively and colorful tribe has grown out of several communities, which is now coming together regularly to celebrate love & (the simple) life – a peaceful, enriching connection between people.
AGAPE ZOE creates space … to discover & desire spirituality in all its forms – an inspiring power place amidst the challenging daily big city bustle. A large team of musicians, healing artists & workshop givers rise to the unique quality and authenticity of each gathering – full of heart, awareness & acceptance.
More than 30 workshops with YOGA, DANCE, MUSIC, INNER WORK & much more will await you at the paradisiac EDEN Studios. We look forward to see YOU, community & much space for each one of us!


more infos see: www.agapezoe.com/en
LOCATION: EDEN***** STUDIOS, BERLIN/PANKOW
Our gathering takes place at a magical spot – in a charming villa amidst a wonderful, lucious garden in the heart of Berlin. Together, we create a vibrant oasis in which you can refuel, get inspired and just let go.
For many years, the EDEN has been a true institution when it comes to dance and movement. With 5 studios, 2 villas and rooms ranging from 9-300 sq m, the location presents ateliers and production spaces for all branches of the arts which serve as a platform for new, genre-crossing artistic development and exchange. Movement and a continuous renewal process – initiated by people of different generations, bringing a wide range of topics to the table – interweave and flow through the whole space. They are the reliable, deeply-rooted foundation, providing support in an ever-changing, increasingly busy and confusing world. The AGAPE ZOE weekend festivals spread throughout both the large (300 sq m) studio with floor-to-ceiling windows in the new building and the villa. The beautiful old building contains – nestled quietly on the second floor – rooms for the therapists and healers to offer bodywork and massage sessions. If the weather is kind, the garden area becomes part of the festival.
EDEN***** Studios
Breite Str. 43
13187 Berlin